Introduction
Welcome to the official ABC website!
ABC is a membership led charitable organisation with the aim of advancing and sharing the Caribbean art-form of Calypso in the UK and Europe. The genre's modern off-shoot "soca" is also fast growing on the world music scene.
We are always seeking new members. Whether you sing, spoken word, compose or play an instrument and want to explore the exciting sound of calypso, soca or fusion we would love to hear from you.
Join ABC, learn the music, perform, travel, make new friends, have fun and develop your character!
If you are not musically inclined but want to learn about the culture there are other aspects such as carnival administration and event management you can support us with.
Latest Performances
London's premier cultural precursor to the annual Notting Hill Carnival, "the London Calypso Tent" will take place during the period during August 2016. With the grand opening being Friday 5th other dates are 12th, 19th (Groovy Soca Competition), 25th (Calypso Monarch Finals) and 26th (the Peoples Choice Awards).
In addition to the ABC All Stars band and calypsonians, international artistes All Rounder (the garlic sauce man), Shirlane Hendrickson, Impulse and Sekon Star will make guest appearances.
#calypsouk #socauk #londoncarnival #uksoca #thenottinghillcarnival#nottinghillcarnival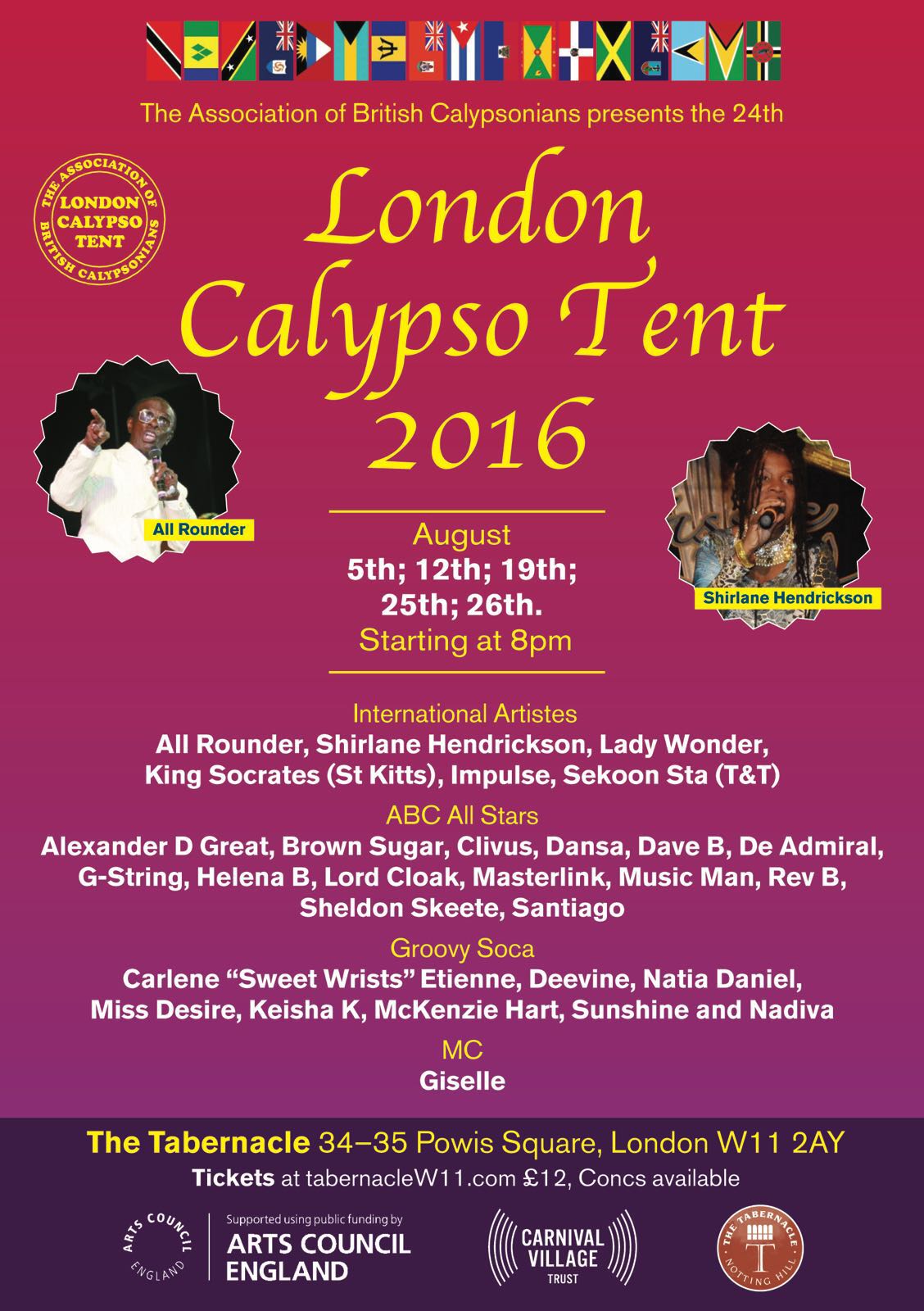 Who are the British Calypsonians?
The popular rise of calypso music had its beginning in the late forties and continues to exist in contemporary Britain through the efforts of the Association of British Calypsonians (ABC) an organisation that has kept the art alive for over 22 years.
Initially instrumental with promoting the music in Britain were Lord Kitchener, Roaring Lion and the Mighty Tiger. Tiger still reigns today, a dedicated and committed calypsonian leading his UK based contemporaries in a campaign that established the formidable London Calypso Tent. The London Calypso Tent may not be the first, but it is definitely the longest surviving outlet that has positioned calypso music at the cutting edge of contemporary Black British culture.
The success of the ABC gaining Arts Council recognition and client status has further contributed to raising the profile of the music. Additional assistance from the Trinidad and Tobago government and Carnival Village (London) has allowed ABC to pass on this musical tradition, the first music of the Caribbean, to a new generation of British youth. Read more about us here.